Cassoulet is my version of lazy food when I have almost no fresh veggies in the house, have very little time and when I'm hungrier than heck. My love of cassoulet began in my vegan years (I can't say I've ever had a meaty version) when it took a million fresh veggies and over an hour to get into the oven. Needless to say, I've shortened the process and in my house, one cassoulet is never the same as the next. It's the kind of meal based on a formula and not on actual ingredients. For me, the only things that say the same is the thickened thyme gravy and the biscuits baked on top. Other than that, it varies depending on what I have in the fridge and freezer and in the warmer months, what's in the garden. It is, without a doubt, the definition of quick and easy (and nutritious!) comfort food.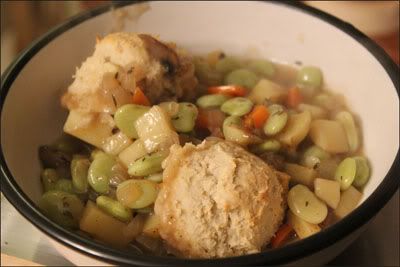 Cassoulet with Baby Limas, Potatoes and "Buttermilk" Biscuits

Ingredients
1 tbsp oil
1/2 large onion or 1 small onion, diced
1 large carrot, diced
3 medium waxy potatoes, diced small
3 tbsp dried thyme
3-5 oz. button or cremini mushrooms
splash of red wine
6-12 oz. frozen baby lima beans
2 tsp bouillon + 2 cups water OR vegetable stock
2 tbsp corn starch + 2 tbsp water
salt to taste

1 3/4 cup GF Flour Mix
1/4 cup cornmeal
1 tsp salt
2 tsp baking powder
1/4 cup shortening
3/4 cup unsweetened non-dairy milk + 2 tsp apple cider vinegar

Directions:
Preheat oven to 400 degrees. In an oven-safe skillet (preferably cast iron) heat the oil over medium heat. Saute the diced onion and carrot until they begin to soften and release their juices. Add the diced potato (make sure they are of uniform size) and cook until the liquid has covered the potatoes. Add the thyme and cook veggies for another 1 to three minutes. Add mushrooms and cook until the mixture begins to adhere to the pan and required a little bit of liquid to deglaze, about 3 - 5 minutes.

Add splash of red wine, scraping the bottom of the pan to make loose anything that has stuck. Add the frozen limas (I recommend the lesser amt unless you absolutely love limas) and immediately add water and bouillon or stock. Mix the corn starch and water in a separate bowl and add to the liquid. You may need to add more bouillon--adjust the thickness to your preference. Once it has reached that point, remove pan from heat and begin making biscuits.

Pour milk into a measuring cup and stir in the vinegar. In a medium bowl, whisk together the gluten free flour mix, cornmeal, salt, and baking powder. Add the shortening. With your hands mix in the shortening until evenly distributed (it should feel a little sandy). Add the milk and vinegar mixture to the flour and mix with a spoon until well combined. Mixture should be sticky, yet a little fluffy from the corn meal. With a cookie or muffin scoop (or a spoon), add the biscuit mixture in balls on top of the cassoulet. Make sure the batter does not touch.
Place in the oven and bake for 10 - 20 minutes. If worried about overflow, place a baking sheet below the skillet. Biscuits should be golden and firm to the touch. Serve immediately

Makes 8-10 pancakes



COST BREAKDOWN

Oil $.04 ($2 bottle has 95 tbsp)
Onion $.20 ($.40/lb)
Carrot $.10 ($4 for 5 lbs organic)
Potatoes $.27 ($8 for 15 lbs)
Thyme $.20
Mushrooms $.85 ($2.85/lb)
Red wine $.05 (less than 1/8 cup of a $5 bottle)
Frozen Limas $.79 (12 oz package)
Bouillon $.20 ($2.50 per jar)
Cornstarch $.03 ($.99 package)
GF Flour $3.25
Cornmeal $.08
Sea Salt $.001 (also not typo--$3 for 5lb bag )
Baking Powder $.10
Shortening $.10 ($2 large container)
Milk $.09 ($1 for half gallon *sale + really good coupon)
Vinegar $.10

TOTAL=$6.45, $.64-$.81
per serving